The Wei Qi Gong of Professor Duan Zhi Liang
800 year old energy balancing technique previously reserved to the Imperial Families of ancient China revealed, described in detail.
Personal transmission of this technique given to author by one of China's "Living Treasures" 107 years old Professor Duan Zhiliang. It has never been taught anywhere else in the US by Professor. DVD 1 Hour. The External Energy Balancing (Wei Qi Zhi Liao) "Wei Qi Gong" as taught by Professor Duan, Zhiliang.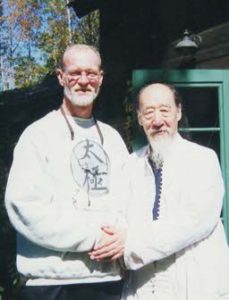 In the autumn of 2001 Master Duan Zhi Liang,  one of China's Living National Treasures visited the United States to pass on his family's Wuji Tai Chi, and Wuji Qigong.  At one stop at Starfarm Tai Chi & Qigong Search Center in Chaplin, CT.  Professor Duan observed a demonstration of a  Usui Reiki natural healing treatment. Duan said he understood and would teach us "Something Special" We call it the Wei Qi Gong of Professor Duan Zhi Liang.

DVD $29.99 and $2.99 s&h
Duan said to balance a patient's energy  prior to application of energy for a specific healing purpose.  Energy tends to concentrate in most people's head.  Duan then demonstrated and taught a group of energy workers of many traditions who came to learn and practice with him.
In this video, veteran Tai Chi and Qigong teacher Laddie Sacharko teaches the Wei Qi Gong Healing technique. Sacharko received transmission directly from Professor at Starfarm. Now you can practice this life-enhancing healing with human energy qigong technique.
Some video was not produced in studio. It was captured live, less than optimal conditions for video taping. The instruction presentation was produced in studio. It's quality is much better than the original source material.