Learn Wei Qi Gong: "It is Traditional".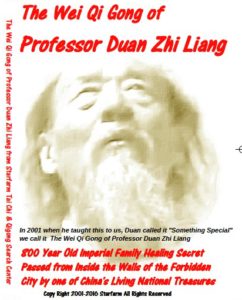 Duan said to balance a patient's energy prior to application of energy for a specific healing purpose. Energy tends to concentrate in most people's head. Duan then demonstrated and taught a group of energy workers of many traditions who came to learn and practice with him.
In this video, veteran Tai Chi and Qigong teacher Laddie Sacharko teaches as you learn Wei Qi Gong Healing technique. Sacharko received transmission directly from Professor at Starfarm.  Learn and practice this life-enhancing healing with human energy qigong technique.
Learn Wei Qi Gong Healing "It is traditional."
People with any background in energy work will view the procedure and try to leap to conclusions based on that experience. Professor Duan kept his demonstration and explanations very simple. He focused on technique rather than theory. Duan made no mention of specific meridians, chakras, or centers of energy. He simply described and demonstrated the methodic movement of energy through the systematic application of touch. An energy balance between head and body was the result. Duan remarked on several occasions, when asked "why" with the simple, definitive: "It is Traditional".
800 year old energy balancing technique previously reserved to the Imperial Families of ancient China revealed, described in detail. Learn How!
Sku

WQGDV001

Description

Wei Qi Gong DVD

Product Options

| # | Option | Price | Weight |
| --- | --- | --- | --- |
| 1 | New | $29.99 | 3.00 oz |

Shipping

3 (Shipping Zones by Country)

| Weight | Zone 1 | Zone 2 | Zone 3 |
| --- | --- | --- | --- |
| 3.00 oz | $2.99 | $5.99 | $12.99 |