Wei Qi Gong Healing "It is traditional."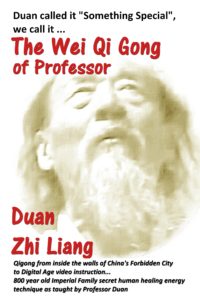 People with any background in energy work will view the procedure and try to leap to conclusions based on that experience.  Professor Duan kept his demonstration and explanations very simple. He focused on technique rather than theory.  Duan made no mention of specific meridians, chakras, or centers of energy.  He simply described and demonstrated the methodic movement of energy through the systematic application of touch.  An energy balance between head and body was the result.  Duan remarked on several occasions, when asked "why" with the simple, definitive:  "It is Traditional".
This presentation of Wei Qi Gong is not the same as Duan's family Wuji Qigong. Wuji Qigong. Wuji Qigong is a solo practice.  You practice Wei Qi Gong Healing with a partner.  This presentation is intended for education and entertainment purposes, and to preserve this ancient traditional practice. It is not professional medical advice.
Also included in this video is some 30 minutes of "bonus" video in which you can watch Professor demonstrate his Wuji Tai Chi, and Wuji Qigong.  About 10 minutes of the video shows Duan  playfully demonstrating the martial application of his Wuji Qigong.